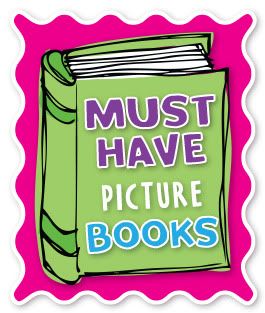 I stumbled on a linky party about books at
The Teacher Wife
. I love to talk about books, so here I'll add a few that I haven't seen listed on some other lists! It's terribly hard to think of absolute favorites, but I'll just stick with a few that I love or my kids loved or both! My guilty pleasure, especially during garage sale season is buying books, so I love getting ideas, link up and share yours for others to read about!
- . - . - . - . - . - . - . - . -
1. The Crayon Box that Talked by Shane DeRolf
This book tells a story about a bunch of crayons that doesn't get along. They each believe they are the best color and will argue about the others. When bought and taken home, they learn they can make a beautiful picture by using all of the colors.
I read this around Martin Luther King Jr. Day to help teach acceptance and diversity. It could be read anytime and this next school year, I'll read it much sooner.
2. Pinduli by Janell Cannon
The author of Stellaluna, also deserving top mentions, also wrote this book. Opposite of The Crayon Box that Talked, Pinduli is a young hyena that doesn't like being different. She's picked on one day and ends up running into a number of other animals that weren't having a good day either. It teaches about how words can travel and hurt those you say things to. In the end, Pinduli learns to accept herself and helps other accept each other too.
I read this last year in the beginning of the year to help teach about how to discover what words mean. The book is filled with great vocabulary. We used context clues, picture clues, and the dictionary to help us out. The kids loved the imagery and enjoyed all the animals in it.
3. Zink the Zebra by Kelly Weil
Now, I'm on a roll with books that teach about appreciating differences. Zink the Zebra is another book about how people can be different. This story follows two zebra siblings: Zink and Fink. Zink was born with spots, Fink, with stripes. They go around the jungle asking which one was "weird." Their parents tell them they are special the way they are.
I've been reading this one to kids for a long time now. Having worked with Girl Scouts, this program was a big part of our camp. This very short story was written by a young girl, Kelly, who had cancer. She felt alone and different. She did lose her battle, but her memory stays with this book and program. You can watch a video online for free with your class:
http://www.zink.org
.
4. Black? White! Day? Night! by Laura Vaccaro Seeger
Less of a picture book and more of a flip book, this book still deserves a mention. The book is a great book of opposite with excellent pictures to illustrate opposites. One part of the page will have a picture with one idea and you open it and see the opposite. The pictures here are tiny and huge.
When I started to read the book with my second and third graders when teaching antonyms, they said: "This is for Kindergartners!" By the end, they were saying their predictions and how cool the book was!


5. Bad Kitty by Nick Bruel
By no means is this a masterpiece, but it is terribly funny. Kitty used to be a very good kitty but then became a very bad kitty when her owner had only healthy food for her. She goes through a terrible fit and does some terrible things until her owner buys her "tasty" food. Then, she must apologize and fits all the wrong things she did.
My students loved this book, the illustrations, and the chaos! It is easy to read with an ABC format and has some great vocabulary as well. My kids wanted to read it again and again, along with any other book that was in the series! The Poor Puppy book has good geographic locations, which is another fun aspect to talk with kids about.
Extra: Oh, How I Wished I Could Read! by John Gile
I almost forgot about this one. I got this when I was in school and absolutely loved it! I read it so often! So, I figured, I may as well add it as an extra. It's about a little boy who dreams he can't read. He has a terrible experience without knowing what the letters meant! It helps to show kids the importance of reading and how words surround them. I did read it to my class, but it was so early in the year I forgot it originally on the list!
Those are just a few, there are so many other books I could rave on and on about! Check out the linky party to add your own!
- . - . - . - . - . - . - . - . -
Like I wrote before, I am trying to do something a day for Kindergarten. Some things are more general, like the pocket chart and now these. I searched many places around me to get library pockets to no avail. So, I decied to make my own. I cut 12 x 18 pieces of construction paper into four parts: 4.5 inches by 12 inches. I then cut them all to be 9 inches long, saving the other 3 inches. These can fit into the pockets later on.
I scored them with my scissors four inches up so I could later fold them. Before I did that though, I cut .5 inches off of each side of the longer chunk.
I folded them up next. Then, I glued the excess tabs and folded them over to create pockets. I rounded the top corners to make it look more professional. It took about 3 episodes of The Vampire Diaries (my latest Netflix TV show) to make 25.