Since there are currently two Blog Hops going on right now about the new school year, I figured I'd participate in both. Really, they go pretty hand in hand.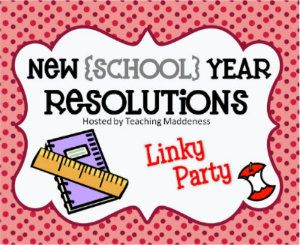 The first blog hop is about resolutions by
Teaching Maddeness
. Now, I've only ever stuck to a few resolutions. One was my freshman year of college and I resolved to taking ONLY one tray of food at each meal and not getting ice cream every day. The other resolution was an idea stole from someone else: brush my teeth with my left hand once a day and my right hand the other time. I'm hoping I'll be able to stick to these resolutions like the ones above.
GO HOME! My first resolution is to go home after school and not arrive ungodly early. I left my home at 6 am to get in by 7 (gotta love traffic); kids arrived at 7:30. My kids would leave between 3-3:30 pm. I left before 4 about five times. Typically, I was there till about 5:30. Add about a 45 minute commute and my day lasted over twelve hours with commute. I then quickly grab the dog to go to the dog park for an hour in apology to him. So, my first resolution is to get out at 4:30 every day, except on very special occasions.
STAY POSITIVE! Now, I am a pretty calm person and can tolerate a lot of things. I grew up with a brother with Autism; I had to learn patience early on. But, things got to me this year and I didn't always stay positive. I hope teaching Kindergarten I will be able to remind myself that they can't know everything and will need plenty of reminders- all while staying cheery enough.
SING and DANCE! I worked four years at a Girl Scout camp and taught Sunday school for eight years; I was used to singing and dancing with kids. I did very little of singing and dancing this last year. Yet, I believe it is a great way to learn vocabulary, learn conceptsA HUGE part of that was my students beliefs. To some (mostly my third grade boys) music and dancing were against Islam. So, I didn't fight them. I did use the Reading Street Amazing Words songs with my Seconds and sang Reading Street songs with them. I did very few songs with the combination and none with just the Thirds.
LAUGH! Laughing, we did that, but not enough. I think they need a good laugh in at least a few times a day. When student teaching, I had kids read Shel Silverstein after specials and tell jokes at the end of the day. I definitely want to hear laugher and see smiles on my kids' faces every day.
The other linky party is by
Fierce in Forth
and is about first day jitters. Teaching a new grade in the fall and I am full of jitters! Of course, accepting the Kindergarten job, I knew I'd have two months to prepare myself. A month into the assignment, I'm still nervous- but I do have some great ideas swirling through my head!
TEACHING KINDERGARTEN! Okay, that is very broad, but it's also very true. I am very nervous about teaching Kindergarten. Teaching them to recognize letters, numbers, to read, to write, how to go to lunch, etc. - I admit, I took advantage of my previous kids knowing how to do this. I've spent every day doing something for Kindergarten and a lot of my time is going into prepping myself. I think it will slide into place, but I just need to feel that I know what I'm doing and have the materials and ideas to do it.
CRIERS, RUNNERS, AND SCREAMERS! Well, I did have a few criers and screamers last year, but those were angry cries and screams, not scared and sad ones! I know at the camp I had some of these, but by no means is it the same as in school. With some twenty other students, I have no idea how I will be able to handle all of these problems. And, how will I able to handle it without other students catching onto the sobs? Any ideas you want to share are good ideas!
BACK TO SCHOOL NIGHT and PARENTS: Last year, I was hired so quickly before the start of the school year and a program was put together then too, there was no back to school night for us. I don't exactly know what to include, how it will go, etc. I want to make a good impression and I want them to feel confident in me teaching their child. I want to get information out of them and I want to give information to them. I worried about being able to communicate with all of the parents and have things to do for the ones that only have a Kindergarten, yet catching all of the parents that have two, three, six kids at the school.
Sigh! So many more, but these are some of my current jitters! Alright, off to try to relax and play some frisbee with the dog.